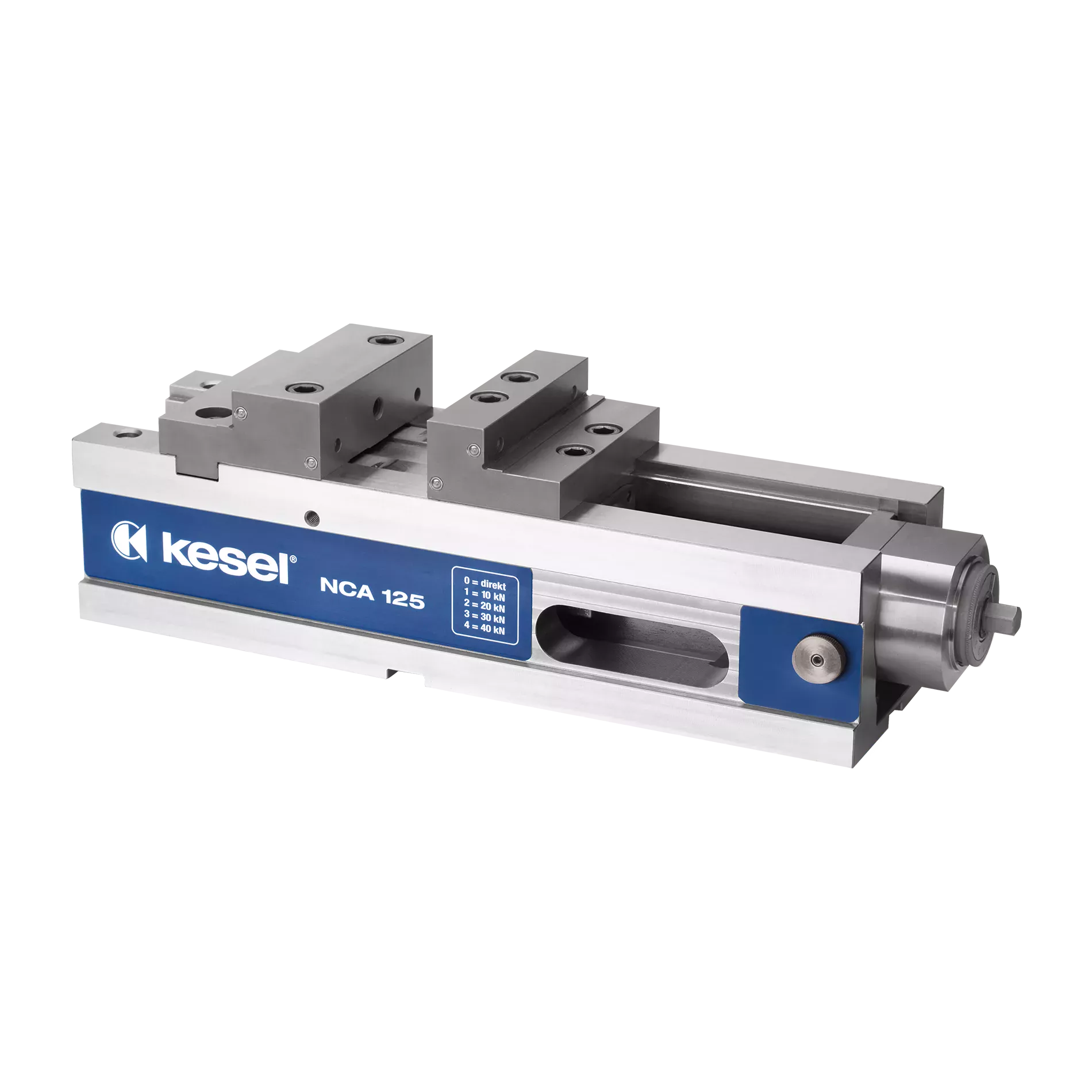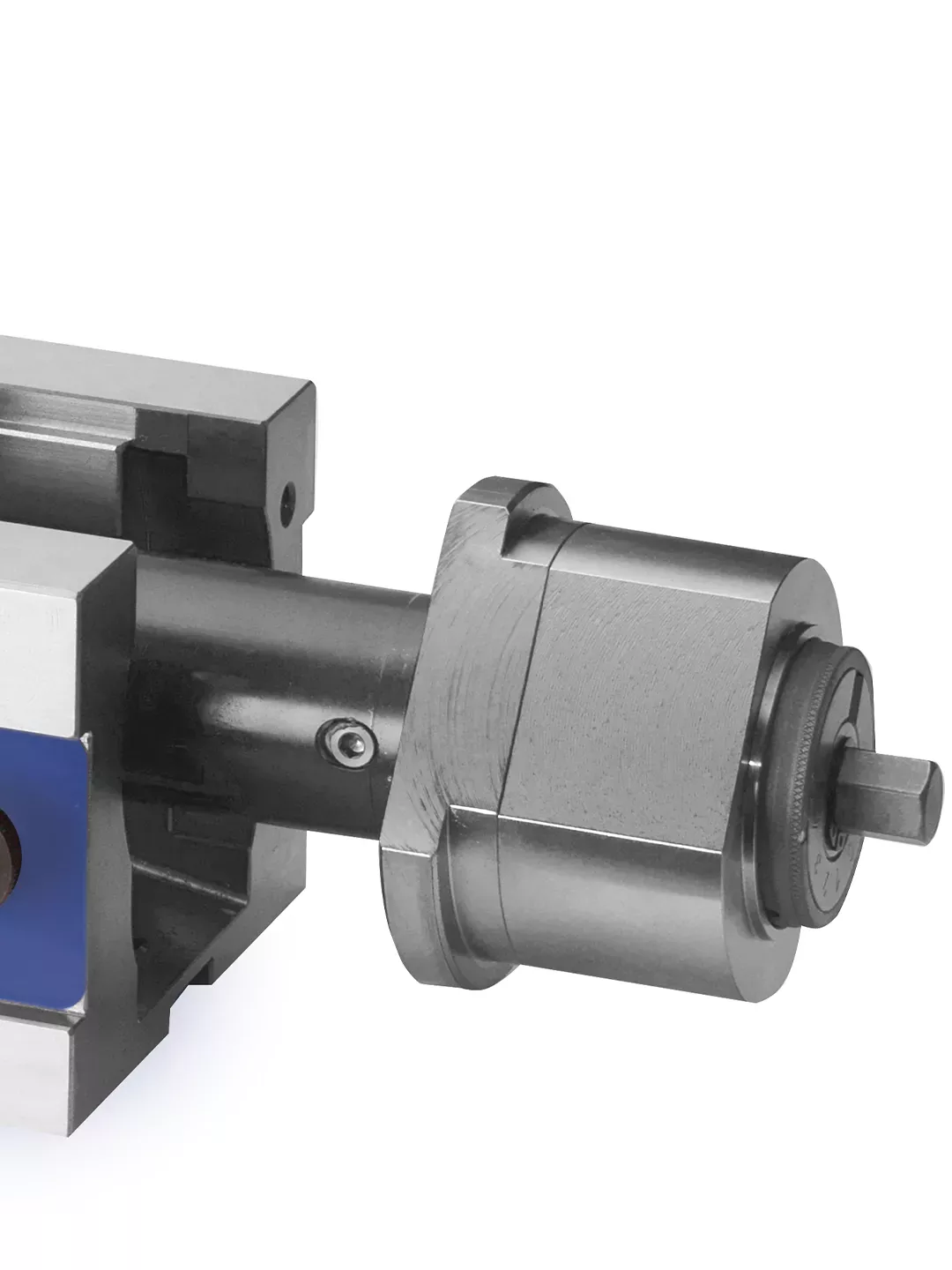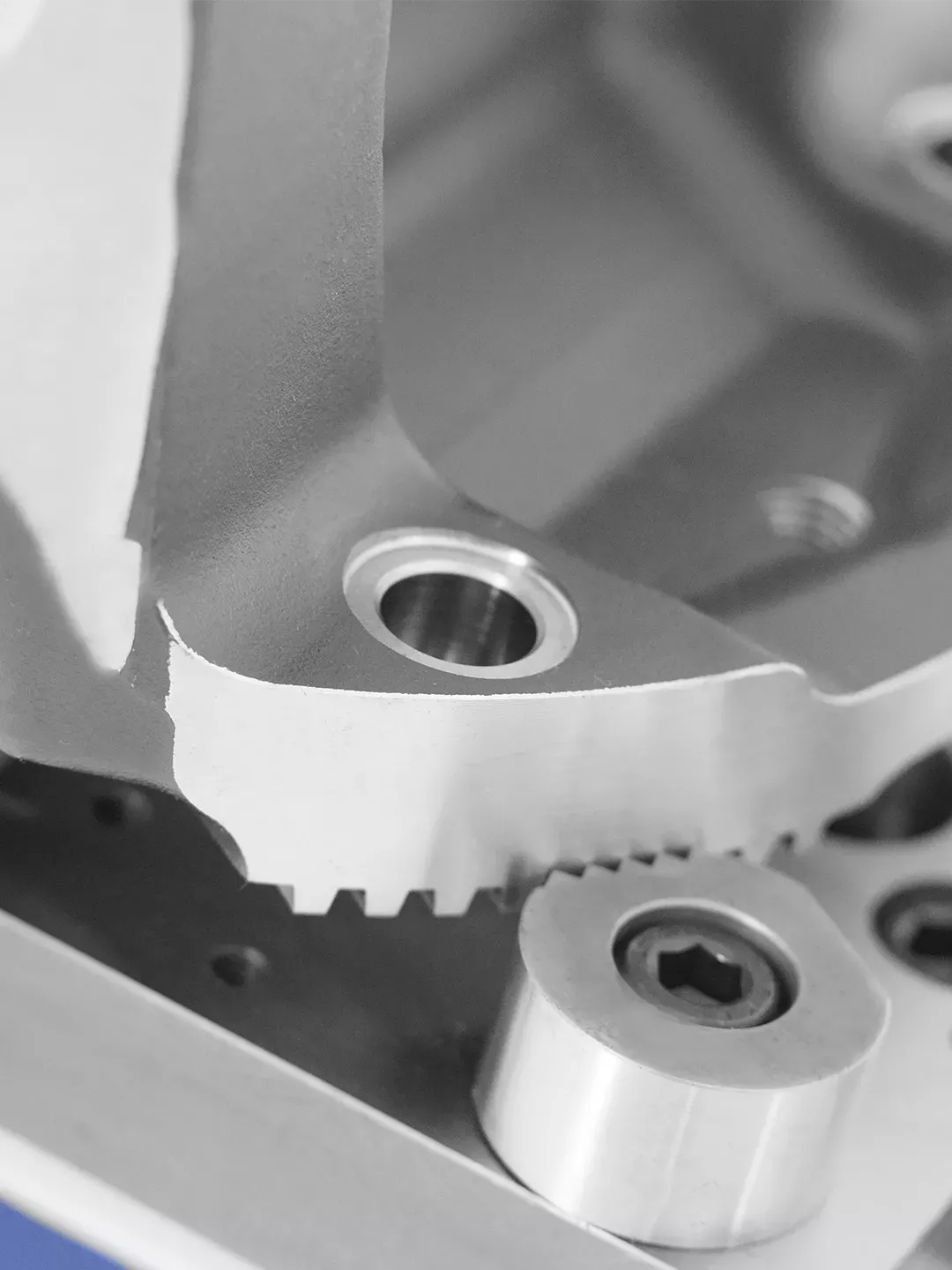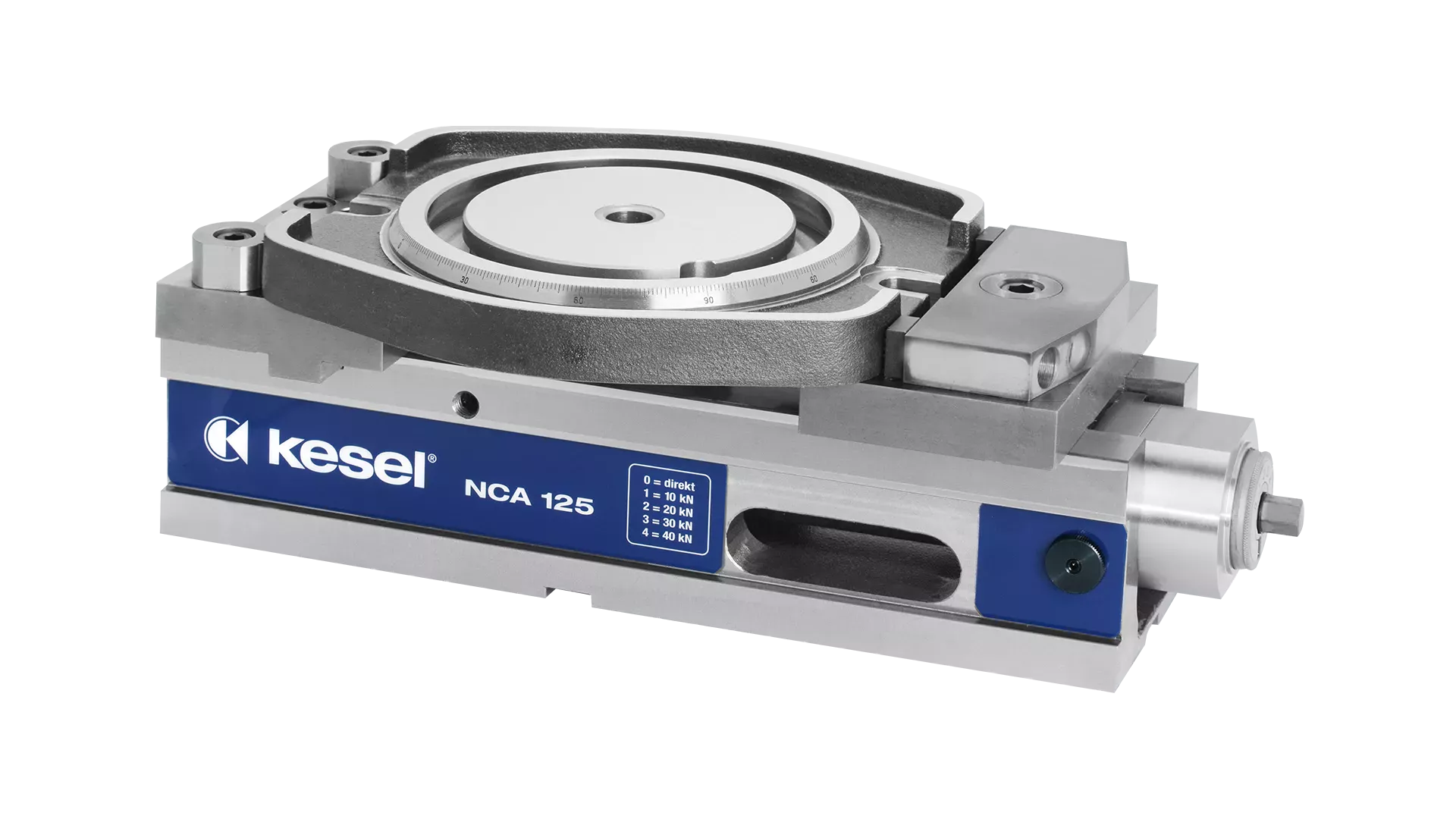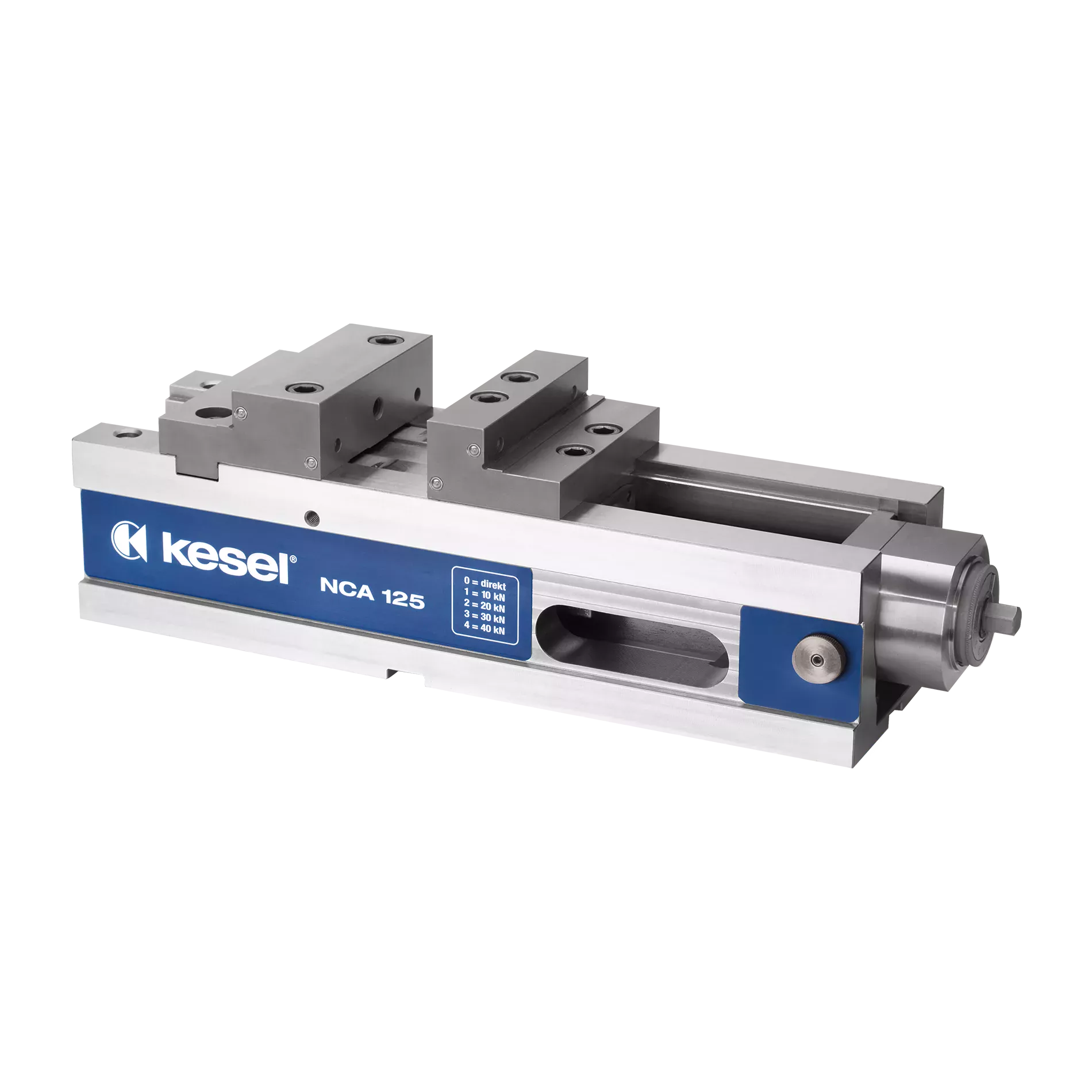 For the highest precision of your workpieces, the NCA, with its mechanical power amplifier is the ideal solution. The NCA is particularly suitable for use in machining centres, both horizontally and vertically.
Work pieces that are susceptible to distortion can be ideally machined due to the precisely adjustable clamping force preselection (guaranteed exactly reproducible clamping force). Simple and quick adjustment of the clamping range by means of the integrated crank. In addition, the NCA is fully compatible with the ALLMATIC clamps TC, LC, NC8, and that at a competitive price!
Jaw width:

45 - 90 mm

, 91 - 125 mm

, 126 - 200 mm

Processing:

conventional processing
Jaw configuration guarantees highest accuracy
Spindle can be removed in 10 s. to screw on the clamp centrally
Integrated step-bar quick-change system
Clamping Width
NCA 90: high jaw side: 0 - 126 mm, Step side: 91 - 217 mm I NCA 125: high jaw side: 0 - 182 mm, Step side: 131 - 313 mm I NCA 160: Hohe Backenseite: 17 - 263 mm, Stufenseite: 187 - 433 mm
Clamping Force
NCA 90: 28 kN I NCA 125: 40 kN I NCA 160: 60 kN
Weight
NCA 90: 15 kg I NCA 125: 35 kg I NCA 160: 65 kg
Application / Use
Mechanical high-pressure clamp with constant overall length for high-precision parts. The NCA is particularly suitable for use on machining centres for horizontal and vertical applications. Due to its compatibility with ALLMATIC TC, LC, NC8, the clamp can also be combined with these products.
Features
- Maintenance-free, encapsulated spindle with mechanical power booster
- Sturdy base body made of ductile cast iron GJS-600
- Fine clamping force preselection
- Parallel bars that click into place
- Alignment possible via longitudinal and transverse grooves as well as via 0-point clamping systems
- Scope of delivery: incl. 4 clamping claws, hand crank
Horizontal use
NCA 90 - 04.25.065.0000 I NCA 125 - 04.25.165.0000 I NCA 160 - 04.25.265.0000
All-sided use
NCA 125 - 04.25.165.0002 I NCA 160 - 04.25.265.0002
What does ALLMATIC - compatible mean?
All relevant dimensions and technical data are compatible with ALLMATIC types TC, LC and NC8.
This means that the vises can be interchanged and existing jaws can also be used.


What is the difference between the high pressure machine vice NCA and the Kesel CNC?
Both vises are absolutely equivalent in quality, each with their own special unique advantages. Our Kesel service team will be happy to show you which vise is the better solution for your application.


Does the NCA High Pressure Machine Vise have a force amplifier?
Yes, with the integrated mechanical force amplifier, a high clamping force can be achieved without any problems. Due to the fine force adjustment, this can be reproduced very well.
How is the clamping force adjusted on a high-pressure machine vise?
For the 90 mm size, the desired clamping force is adjusted manually with a sliding ring; for the 125 mm and 160 mm sizes, it is adjusted with a Allen key SW6 in the groove on the front side.

Do chips that fall into the High Pressure Machine Vise cause problems?
No, the chips can be flushed out of the NCA High Pressure Machine Vise through the large elongated holes on the side or on the face of the fixed jaw.
In addition, the spindle is protected against chips with highly effective seals.

What are the steel ball-bearings in the jaws used for?
These are spring-loaded pressure points. Our Kesel step ledges (support ledges) can be clicked into these.