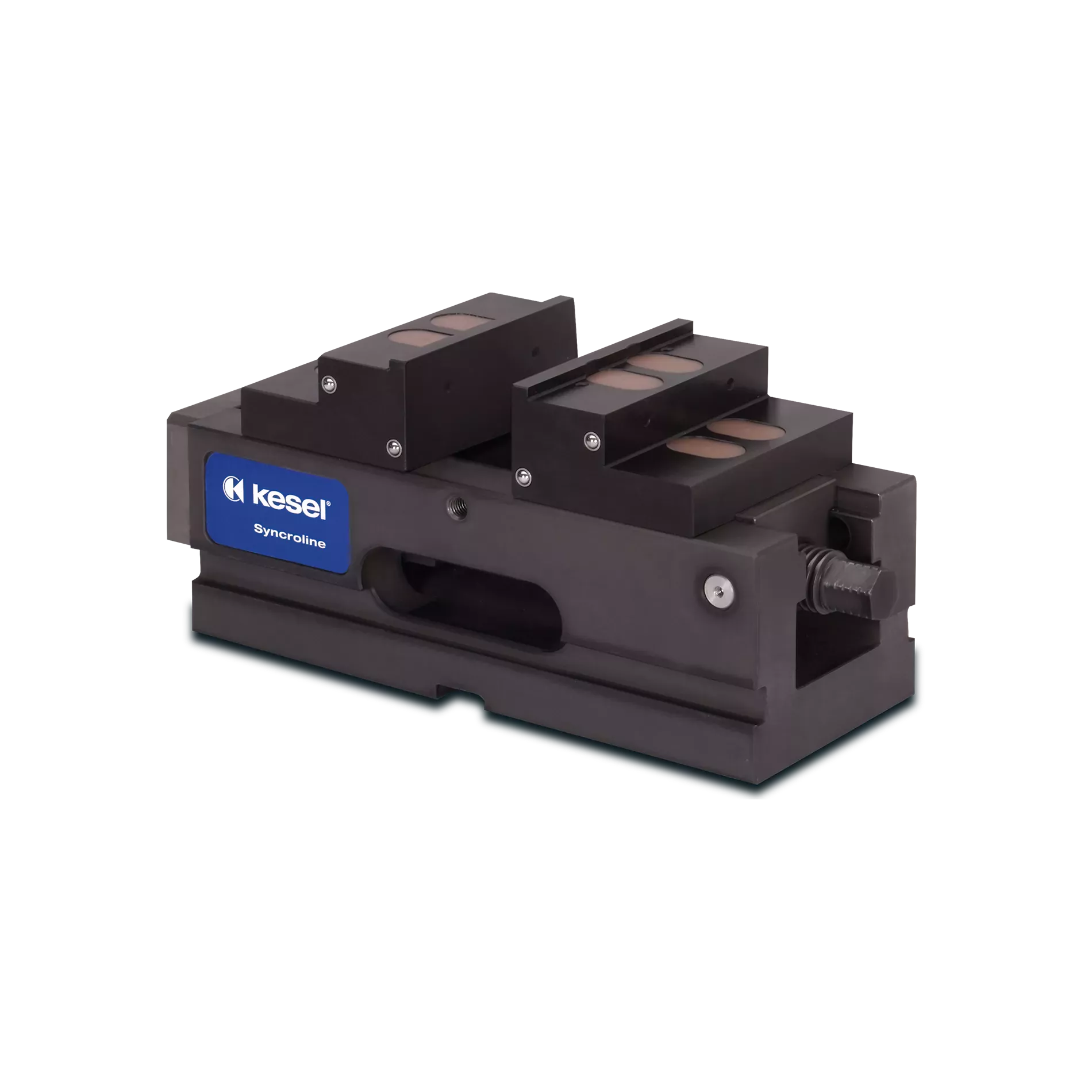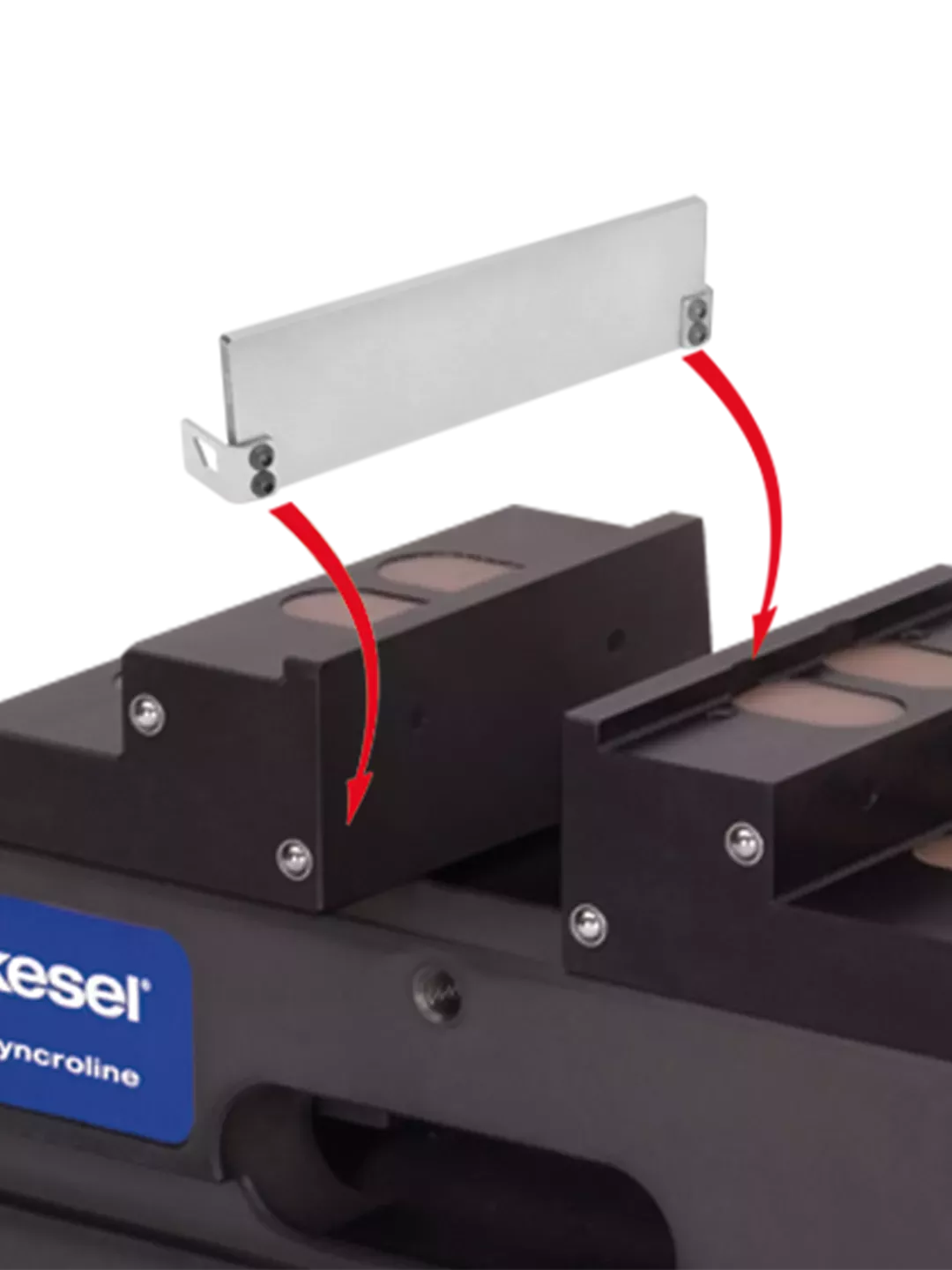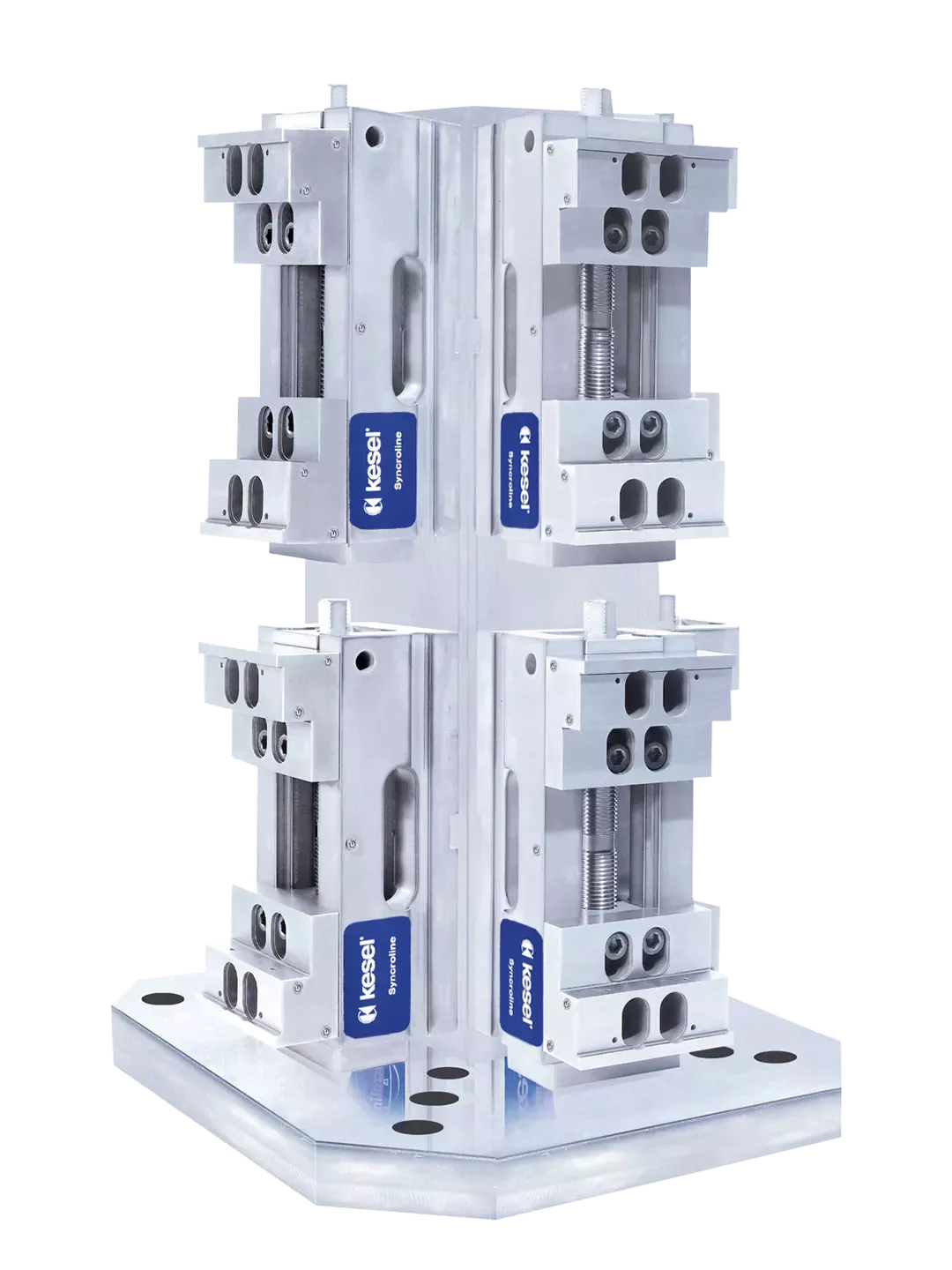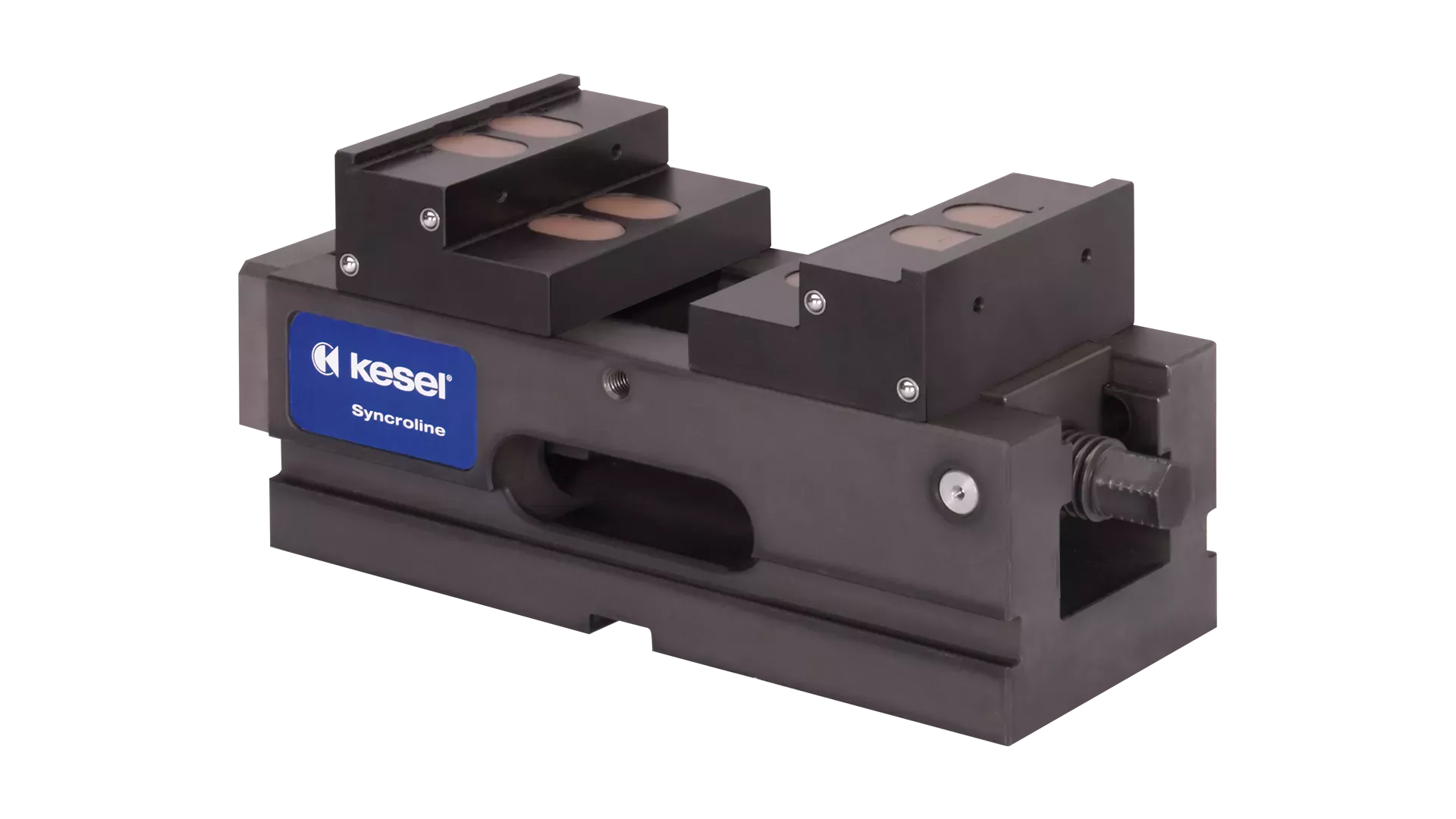 Machine Tool Vise
Syncroline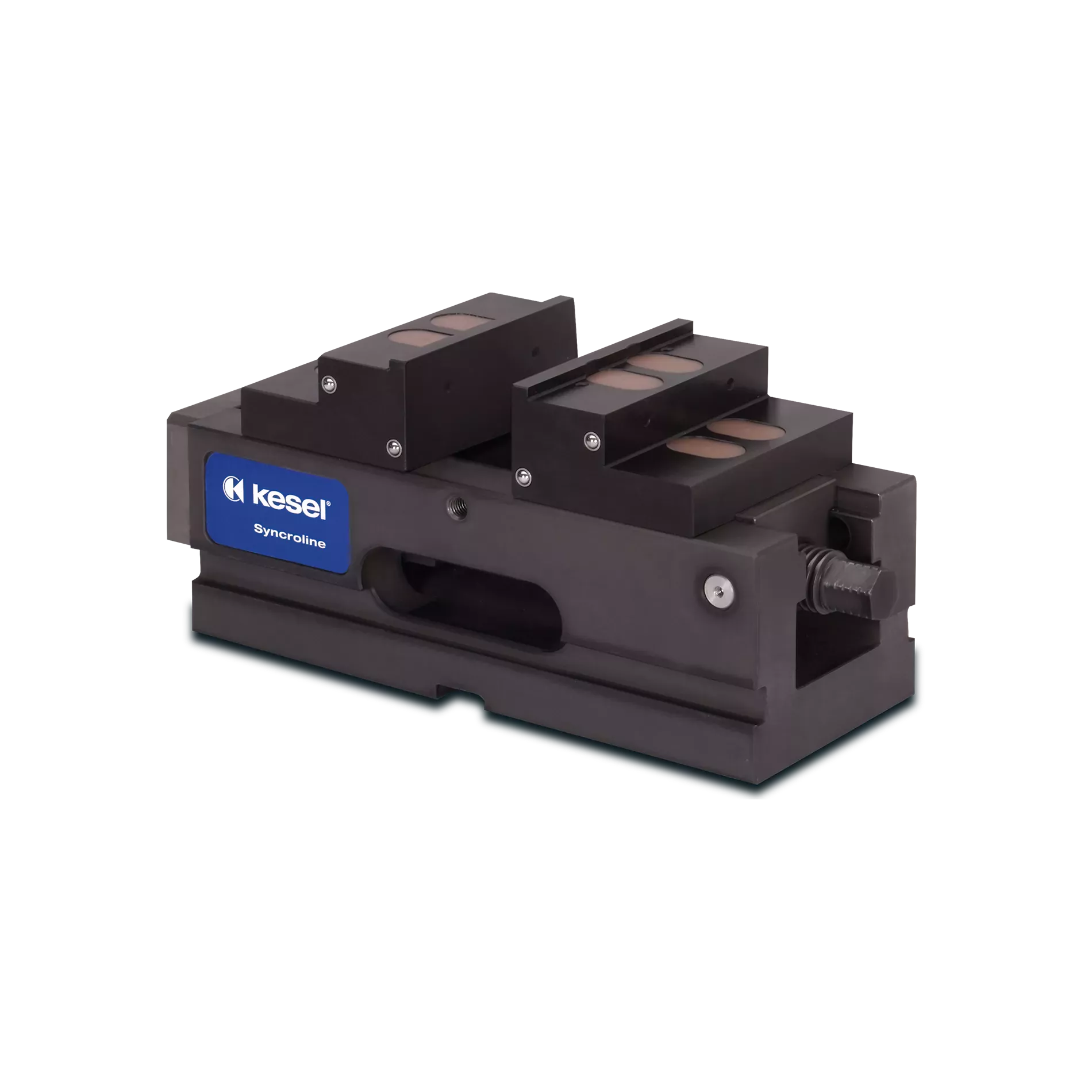 The innovative and compact SYNCROLINE centric or single clamp delivers outstanding performance in 5-sided machining and in the area of multiple clamping.
The patented quick jaw change system makes it possible to change over to other workpiece sizes in no time at all. The Syncroline is versatile and can be used on all machines. Another advantage of this vise is that with a conversion kit, the vice can be easily converted from a central to a single-sided clamp. Thanks to the perfect Kesel "Click" system, support bars can be attached to the jaws in no time at all.
Jaw width:

91 - 125 mm

Processing:

5-Axes processing

, Automation
Simple conversion from central to single clamping system
Quick change jaws thanks to the patented quick-change jaw system
Integrated step bar quick-change system
Clamping Width
High jaw side: 0 - 78 mm I Stepped jaw side: 70 - 148 mm I Uppermost jaw step: 134 - 210 mm
Clamping Force
Centric: 30 kN with 115 Nm I Single: 35 kN with 80 Nm
Application / Use
Versatile, for use on all machines. Optimally suited for 5-sided machining due to compact design. Further areas of include palletised automation or clamping towers.
Features
- Stable base body made of ductile cast iron GJS-600
- Screw-on "grip" bars
- Optimum chip protection of the high-pressure spindle due to patented wiper technology
- Alignment possible via longitudinal and transverse grooves as well as via 0-point clamping systems
- Scope of delivery: incl. 4 clamping claws
General
2 Variants: Centric or single-side
Centric
Syncroline 100 - Centric Nr.04.25.270.001.1
Single
Syncroline 100 - single-side Nr.04.25.271.001.1
What is the advantage of a centric clamp over one with a fixed jaw?
With centric clamping, the center of the workpiece is always centered in relation to the vise, regardless of the workpiece length. This ensures optimum accessibility, centered programming and centered distribution of allowances.

How does the quick-change jaw system work on the Synocroline Machine Tool Vise?
When changing the jaws of the Syncroline Machine Tool Vise, it is not necessary to unscrew 4 screws completely, but only 2 screws by 1 turn. Then the jaw can be pulled off over the screw head and changed.



Does the Syncroline Machine Tool Vise machine vice have a clamping force adjustment?
The Syncroline Machine Tool Vise is clamped with a torque spanner. The clamping force increases linearly with the set torque.

What clamping forces can be achieved with the Syncroline Machine Tool Vise?
The maximum clamping forces are 35 kN.
How does the conversion from the centric version to the version with fixed jaws (single-version) work?
The modification is carried out by means of a conversion kit. This means that the base body and the jaws can be used for both the centric and the single version.
What are the steel ball-bearings in the jaws used for?
These are spring-loaded pressure points. Our Kesel step ledges (support ledges) can be clicked into these.